Looking for a fun and unique way to celebrate your love for all things Vampire Diaries and beyond? We have just the thing! We've teamed up with the talented artists at The Sketching Pad to create a special paint party just for TVDU fans!
Their fantastic staff will help you create a unique masterpiece featuring characters, quotes, icons, or even a scene from your favorite show. It's one of the most exciting ways to celebrate your TVDU fandom in Georgia's French Quarter™!
If this sounds like an event you'll want to sink your teeth into, the details are below.
FAQs About TVDU Paint Parties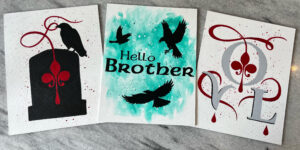 Do I need a reservation? The studio can get busy, so we recommend booking at Filmed in the South at least 3 days in advance. You may luck out and get a day-of opening, but it's better not to take chances.
What time of day can I book a paint party? The timing varies based on availability. You can book a party at any of the times based on our website (times coincide with our walking tours). Or contact the studio to see when their open session workshops are.
How long does the party last? Paint parties last for 3 hours.
Is there a minimum group size? If you want a private room, you need at least five people. But if you don't mind painting in the open room, there's no minimum.
Is alcohol available? Paint parties are all BYOB. The Sketching Pad doesn't serve alcohol, but you're welcome to bring your own.
How much does this paint party cost? Each person costs $40 and includes 3 hours of paint time, hands-on help from a staff member, and everything you need to create a 16×20 custom canvas.
Where is the Sketching Pad? 924 Center Street NE, Conyers, GA, 30012, USA
How Do the Paint Parties Work?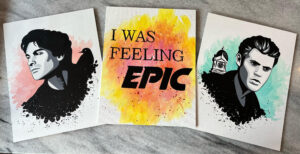 When you arrive at the Filmed in the South Office (inside the Sweet Treat Depot), you'll start by choosing what to paint. Your canvas can feature Vampire Diaries, Originals, Legacies, or a combination of all 3! The Sketching Pad artists have created several templates you can follow, but you're welcome to select an online design instead.
After everyone has picked out their design, you'll head over to the Sketching Pad, where an instructor will walk you through each step and help you bring your canvas to life! But don't worry–you're in control of your final masterpiece from start to finish. In fact, you're encouraged to customize your painting with colors and textures that speak to you.
When you're done, you'll have a beautiful, custom creation to take home and hang proudly with the rest of your TVDU memorabilia.
Why the Sketching Pad?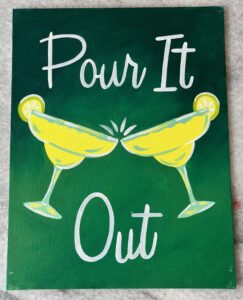 Jennifer Baker and her staff have a unique connection with TVDU. Over the years, they've been called on many times to help the shows' prop departments create unique pieces for the sets. But that's a story for another time…
Book Your Paint Party
Reserve your spot for this epic paint party today on our website!