The "Originals" spin-off "Legacies" came to a bittersweet end this summer, and we can't deny that we'll miss watching the show and mingling with the cast and crew around town. But while we can't change the decision to re-air the show, we can still enjoy a little piece of "Legacies" that lives on here in Conyers!
If you didn't know, "Legacies" did a lot of filming between Conyers and Covington because their studio was in town! So if you aren't ready to let go of "Legacies" yet, here are a few places you can visit to relive the magic.
Awake Coffee
909 Commercial St NE. Conyers, GA 30012.
The Awake Coffee Shop on Commercial Street doubled as Seylah's Corner Coffee in Season 1, Episode 8.
Carter's Aly
Carter's Aly is a side street in Conyers used in both "Originals" and "Legacies." On more than one occasion, crews decked out Carter's Aly with fake arches to resemble Mystic Falls during "Legacies."
Railroad Street and Center Street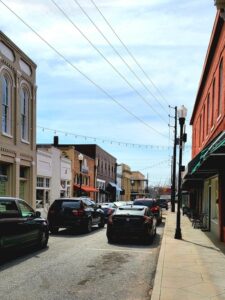 The street next to our Welcome Center and Olde Towne's main thoroughfare were frequently featured in outdoor scenes–after being doctored up with sets, of course! Center Street is especially recognizable, even without the facades, because it appeared many times in "Originals" as the New Orleans hub.
The Sandwich Shop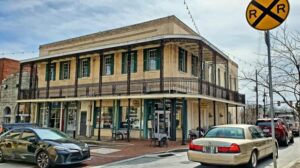 1795 Parker Rd SE 150, Conyers, GA 30094
Another "Originals" throwback, The Sandwich Shop, was used as the façade of Rousseau's in the episode when Lizzie's genie wish sends Hope back to New Orleans. (Season 1, Episode 10)
Other Spots to Explore Nearby
Kent Rock Manor
5520 Kent Rock Rd, Loganville, GA 30052
If you're looking for the exterior of the new Salvatore Boarding School, you'll want to head over to Loganville, GA, to find Kent Rock Manor. Besides embodying the new facade of the school, this large complex was also used for its pond and baseball field during filming.
Whits Inn
4648 Lawrenceville Rd, Loganville, GA 30052
You'll recognize the Whits Inn from Season 1, Episode 8. It's the hotel where Landon and Hope are holed up when Seylah reveals Landon's shocking family tree.
Covington Town Square & Clock Tower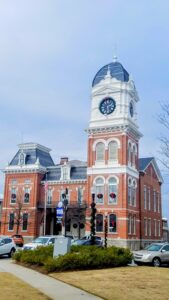 Covington's highly recognizable town square is featured throughout the series whenever characters visit Mystic Falls.
Vampire Stalkers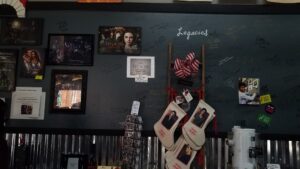 1102 Monticello St SW, Covington, GA 30014
The Vampire Stalkers tour agency and store was used in the episode "We're Being Punked Pedro." It's the vandalized store that the Salvatore students have to clean during community service.
Wolverine Field
8134 Geiger Street, Covington, GA 30014
Remember those annual flag football games between the Salvatore School and the Mystic Fall High School? Those all took place at Wolverine Field in Covington!
Porterdale Yellow River Park
739 Railroad St, Porterdale, GA 30014
This is the park where the Salvatore School has its very first field day in Season 3, Episode 1.
The Speakeasy at 18th and 21st
2001 Main Street, Porterdale, GA 30070
Legacies used the interior of this speakeasy for the bar where Pothos eats a heart, and the crew discovers that he's not actually Cupid. (Season 2, Episode 11)
Patrick Henry High School
109 South Lee Street, Stockbridge, GA 30281
Mystic Falls High was actually located at the old Stockbridge high school until Stranger Things came back and took over the filming location for Hawkins High.
Come visit us in Conyers and take your own film tour to see all these "Legacies" locations! And don't forget to book a behind-the-scenes tour with Filmed in the South to see everywhere that the "Originals" filmed in town, too!
[contact-form][contact-field label="Name" type="name" required="true" /][contact-field label="Email" type="email" required="true" /][contact-field label="Website" type="url" /][contact-field label="Message" type="textarea" /][/contact-form]