Like every good supernatural TV show, The Originals has its fair share of spicy romances. From unforgettable love stories to edge-of-your-seat drama with the enemy of the week, the Original siblings' love lives are as much a part of the storyline as whomever they're fighting that week.
So what better way to celebrate Valentine's Day than a look at 5 of the most epic romances from The Originals? Here are our favorite couples from the series and why we love them together!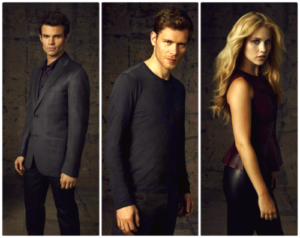 Elijah & Hayley
"What if?" is one of the most tantalizing questions in every unfinished romance—maybe that's why we can't get enough of Elijah and Hayley's love story!
Elijah immediately establishes himself as a protector for Hayley and her unborn child out of a sense of duty for family. But very quickly, we can see that the two have chemistry! Unfortunately, there's always something keeping Hayley and Elijah from being fully together, and we only get teasing glimpses of what could have been.
However, it's clear that Hayley's heart always belongs to Elijah and that he feels the same. Despite hardships and separation, this enduring love for each other shows us what a fantastic couple they would have been if they'd only been given a chance!
Klaus & Cami
We rarely get to see Klaus's vulnerable side, but he lays everything bare when he's with Camille. It's touching to see him so open and tender toward someone, allowing us to see him in a better light.
The two eventually develop genuine feelings for each other, only to be separated by Aurora's vindictive plans. Unfortunately, Klaus's love for Cami becomes his weakness, making her a target for all his enemies. But even after Cami is dead, we see Klaus dreaming of her and can rest assured that they had something powerful and real even if they didn't get to enjoy it for long.
Rebekah & Marcel
Talk about drawn-out romances! Rebekah and Marcel's story spans several centuries and constant guilt trips over Rebekah's loyalty to her siblings.
After a brief attempt at romance, Marcel and Rebekah are separated when Klaus forbids their love and daggers Rebekah for the next half-century. Despite some following animosity between Marcel and his adopted family (not to mention Rebekah's body swap!), the two of them manage to rekindle their relationship throughout the series.
Finally, at the end of season four, we see the two lovers have worked past their differences and started a new life, free from the drama of New Orleans! We wish it could've ended with their happily ever after, but we can't really blame Rebekah for returning out of love for her family.
Kol & Davina
Kol is the epitome of an anti-hero, but we learn to love him as we see his heart through Davina's love-struck eyes. At first, Kol is blood-thirsty and at odds with the inner circle of siblings. But love has a funny way of changing our priorities and hearts, as we can see when Kol falls in love with Davina. Although Davina is understandably furious when she finds out about Kol's true identity, she manages to forgive him and love him back.
Their passion is possibly the strongest in the series, and Davina repeatedly goes to dangerous lengths to bring Kol back to life so that they can be together and earn one of the series' few happy endings.
Freya & Keelin
By all standards, Freya and Keelin should not work as a couple! These two have the rockiest start in the series—Freya literally held Keelin hostage—but somehow, they move past their differences to develop a sweet and stable bond.
Their friendship-first relationship gives them one of the most solid foundations in the series, and they continually show trust and support in each other. Their long-term commitment despite time apart is absolutely heart-warming, and we get to see their well-earned happy ending when they marry and decide to start a family of their own. Hooray!
Tell Us Your Favorite Romance!
Who do you think is the most epic couple? Even if it's not one of our picks, let us know your favorite couple in the comments below and why you love them so much!